Welcome To
Cheri's Tips for an Organized Life!


Hello! Thank you for visiting my organizing page. I am a very organized, detail-oriented person, and many friends and family
just don't know how I do it. I thought the easiest way would be to share my tips on this page, and maybe they could be of some use to others. I have an extremely hyper personality, and seem to get more done in one day than most people could get done in a week, but I think that keeping everything on schedule gives me the extra time to do many things.


Our home is a Victorian style 3-story design with approximately 2600 sq. feet. We have 3 bedrooms and 3 bathrooms, along with 2 living areas and 2 dining areas. Cleaning this home in one day is quite a chore, but I can't stand to clean one room one day, another room the next. I have a need for all my rooms to be clean at the same time. I have had more than one friend accuse me of being obsessive/compulsive, but I am really just a neat-nik at heart who loves her vacuum marks in her carpet!
HOUSEWORK IS NOT A BAD WORD!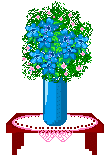 The condition of our home is a reflection on us. Although I am blessed to be able to stay home, there was a time when I worked and my home was still spotless. I am a strict parent with rules for many things, including housework. A few of them are:
EVERYONE brings their own clothes to the laundry room, everyday.
BEDS must be made and bathroom cleaned before anyone leaves their floor of the house.
MISCELLANEOUS clutter left around my house disappears.

AT LEAST 2 loads of laundry are done per day This is a big key to staying on top of the housework!.

ORDER OF HOUSEWORK:

(Done each Monday)
CHECK all 3 floors for miscellaneous clutter. Either throw it out or hide it until a later date.
DUST all furniture, bookshelves, pictures, stairway molding and banisters, tops of doors, top of washer and dryer to remove lint buildup, and wipe dust off globes on light fixtures, being careful not to break any.
CLEAN all windows, mirrors in bathrooms, countertops in kitchen and bathrooms.
POUR toilet cleaner in all toilets and let that soak while doing other things.
SCRUB bathrooms, including toilets and tubs.

SWEEP kitchen floor to remove dust and debris.
GET on hands and knees and scrub the kitchen floor. Using a mop is not as thorough.
VACUUM all floors, including stairs. This is the very last thing I do. Nothing looks better than fresh vacuum marks on carpet! Ha!


MEAL PLANNING
PLAN the week's meals in advance.
WRITE your grocery list in the order of the supermarket you will be shopping.
REVIEW weekly grocery ads and write down what is on sale at each store. Only include items you NORMALLY buy. Keep this in your purse for easy reference through the week.
VISIT each store in town each week to take advantage of the sale merchandise. This greatly reduces your weekly food bill.
USE coupons only for items you normally buy.
BREAKFAST pancakes and waffles are made ahead of time and frozen individually for easy reheating.

CHILDREN'S RESPONSIBILITIES
My children have been involved in the upkeep

of our home for their entire lives. When they were toddlers, they put up their own little toys in the designated basket in the living room. Now that they are older, there are chores that must be done every week. I do not believe in paying a child an allowance if they do chores. It is my opinion that everyone in the house takes part in cleaning, and doesn't need to be paid for such help. A few of the basic chores are:
EACH child dresses himself every morning, and has since age 2.
EVERYONE brings down their worn clothes to the laundry room every day. I do not pick up miscellaneous laundry around the house, and it is not allowed to be on the floor.
WHEN each child awakens each morning, they must dress, make their bed and bring their clothes down before they eat breakfast. This helps everyone get ready in a timely fashion each morning.
TELEVISION viewing is not allowed on school mornings.
AFTER brushing their teeth, the boys bathroom must be wiped clean and towels straightened.
EACH child puts up their own clean clothes when they have been folded.
I DO NOT check pockets in clothes, jeans, etc. It is the responsibility of the wearer to make sure their valuables are taken care of.
BEDTIME is 8:30 PM. No exceptions. A regular sleep schedule is the key to happy, healthy children.
FOOD and drink are not allowed outside of the kitchen. Very few exceptions.
EXTRA money can be earned by doing special tasks that are removed from the regular chores. For example, I will pay a child to wash the kitchen floor. I will also pay a child to vacuum the stairs, or rake leaves in the yard.

EMAIL
Do you have any specific questions regarding organization? Please email me the question and I will do my best to answer. Thanks!

people have visited!!